Welcome to the charming town of Taormina, nestled on the picturesque island of Sicily. Taormina is a true gem of the Mediterranean with its rich history, breathtaking vistas, and a charming blend of cultures. From ancient ruins to stunning beaches, this idyllic destination offers an unparalleled experience for travelers seeking relaxation and adventure.
Whether strolling through its cobblestone streets, savoring traditional Sicilian cuisine, or gazing at the awe-inspiring Mount Etna, Taormina promises to captivate your senses and leave an indelible mark on your soul. Join us as we embark on a journey to discover the enchanting allure of Taormina, where ancient history meets modern-day beauty.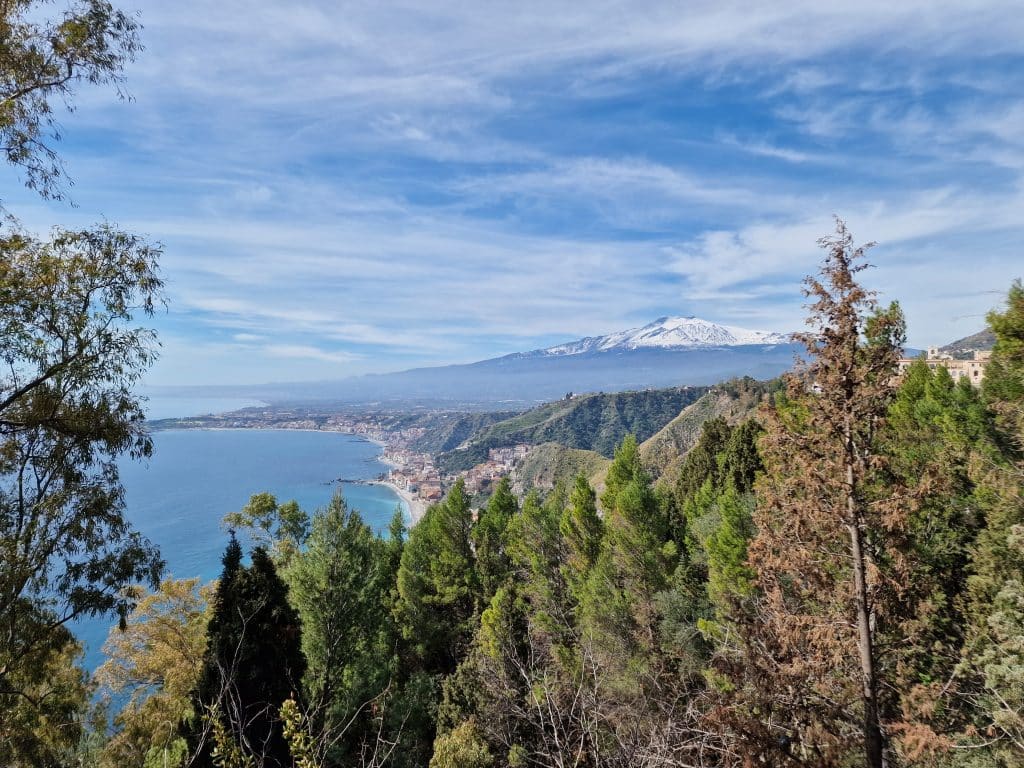 What to see in Taormina?
Here are some top attractions and things to see in Taormina:
Ancient Theatre of Taormina
This well-preserved old Greek theater offers breathtaking views of Mount Etna and the surrounding coastline. It hosts various cultural events and performances throughout the year.
Corso Umberto
The main pedestrian street of Taormina, Corso Umberto, is lined with shops, cafes, and restaurants. It's a perfect place for a leisurely stroll, shopping, or enjoying local cuisine.
Isola Bella
A small island located just off the coast of Taormina, Isola Bella is a nature reserve known for its crystal-clear waters and picturesque beauty. You can take a boat tour or simply relax on the beach.
Palazzo Corvaja
This medieval palace is an architectural gem featuring a mix of Arab, Norman, and Gothic elements. It now houses the Taormina Art Museum, where you can learn about the town's history and admire local artworks.
Giardini della Villa Comunale
These beautiful public gardens offer a tranquil escape from the bustling town. You can enjoy panoramic views, exotic plants, and sculptures while walking.
Castelmola
A nearby village perched on a hill above Taormina, Castelmola offers stunning views of the surrounding landscape. It's worth visiting to explore its narrow streets, ancient castle ruins and enjoy a traditional almond wine called "Vino alla Mandorla."
Taormina Cathedral
Located on the main square of Taormina, Piazza Duomo, the cathedral dates back to the 13th century. Its architecture reflects different styles; inside, you can find beautiful artworks and religious artifacts.
Mount Etna
Although not directly in Taormina, Mount Etna is an iconic volcano that dominates the skyline. Consider taking a guided tour to explore the volcano's unique landscapes, lava fields, and craters.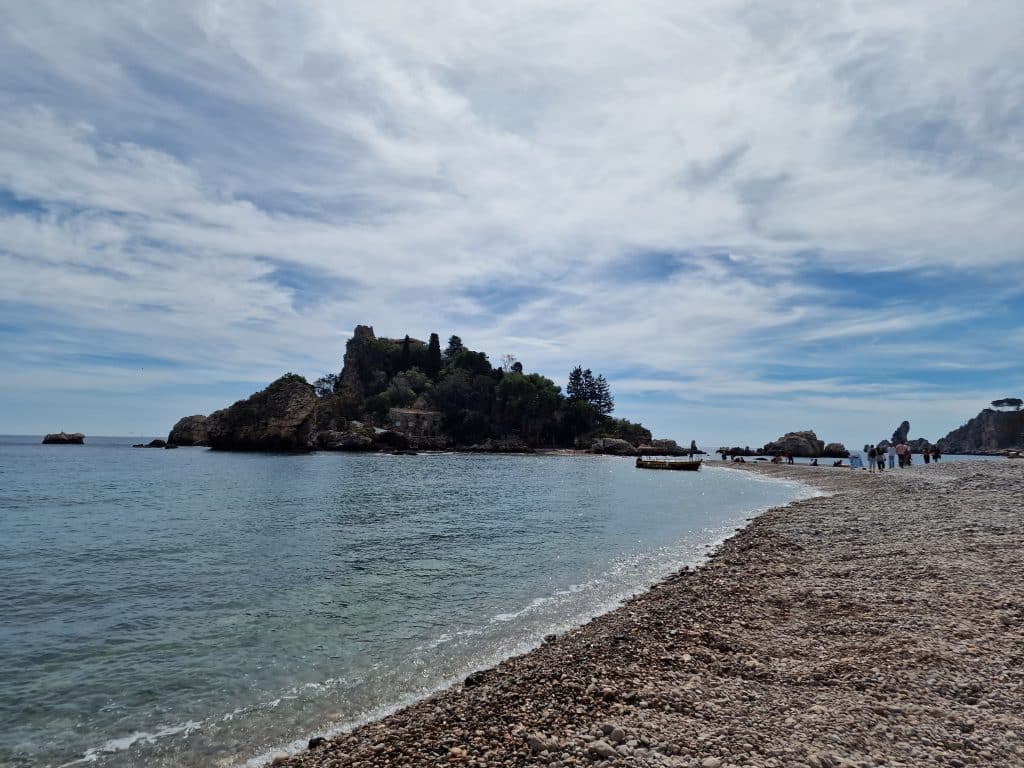 How to reach Taormina?
Depending on your starting point, you have several transportation options to reach Taormina. Here are the common ways to reach Taormina:
Taormina by Car
If you have a car or plan to rent one, you can drive to Taormina. The town is located on the eastern coast of Sicily and is accessible via the A18 motorway. From Catania, the drive takes approximately one hour, and from Messina, it takes about 45 minutes.
It's worth noting that Taormina is built on a hillside, and the historic center is pedestrian-only. If you're driving, you must park in one designated parking area and explore the town on foot.
Taormina by Plane
The nearest airport to Taormina is Catania Fontanarossa Airport (CTA), approximately 50 kilometers away. You can take a taxi or a pre-booked transfer to Taormina from the airport. Alternatively, you can rent a car and drive to Taormina, which takes about an hour.
Taormina by Train
Taormina does not have a train station, but you can take a train to the nearby town of Giardini-Naxos, about 5 kilometers away. You can take a taxi or a bus to Taormina from Giardini-Naxos. Trains from major Italian cities like Rome, Naples, and Milan connect to Giardini-Naxos.
Taormina by Bus
Regular bus services connect Taormina to various cities in Sicily. You can take a bus to Taormina from Catania, Messina, or other nearby towns. The bus journey usually takes 1 to 1.5 hours, depending on the departure point.
Can you swim in Taormina?
Yes, you can swim in Taormina. Taormina is a popular tourist destination located on the east coast of Sicily, Italy. It is known for its beautiful beaches and clear waters, making it an excellent place for swimming and other water activities.
Taormina is situated on a hill overlooking the Ionian Sea, so it does not have its own beaches. However, there are several beaches nearby that are easily accessible from Taormina. The most famous beach in the area is Isola Bella, a small island connected to the mainland by a narrow strip of sand. It offers crystal-clear waters and is a popular spot for swimming, snorkeling, and sunbathing.
Another famous beach close to Taormina is Giardini Naxos, a larger beach with a long stretch of sand. It is located just a few kilometers south of Taormina. It offers various water sports activities, including swimming, jet skiing, and paddleboarding.
Overall, Taormina and its surrounding area offer several beautiful beaches where you can swim in the Mediterranean Sea.
How much time to spend in Taormina?
The time you should spend in Taormina depends on your travel preferences and the activities you plan to engage in. However, generally, most visitors find that spending two to three days in Taormina provides a good balance of exploring the town and its surroundings.
Additionally, consider allocating some time to visit the nearby attractions, such as Mount Etna, the Alcantara Gorge, or the beautiful beaches along the coast.
Ultimately, it's a personal decision based on your interests and the pace of your travel. If you prefer a more relaxed visit, two days could be sufficient to experience the highlights of Taormina. However, if you wish to delve deeper into the town's offerings or explore the surrounding area extensively, extending your stay to three or more days would be advisable.