Cefalù, a charming coastal town on the northern coast of Sicily, is a must-see destination for anyone visiting the island. With its picturesque beaches, stunning medieval architecture, and delicious seafood cuisine, Cefalù has something for everyone.
One of the town's main attractions is its stunning Norman Cathedral, a UNESCO World Heritage Site that dates back to the 12th century. The cathedral's intricate mosaics and stunning architecture testify to the town's rich history and cultural heritage.
Cefalù is also home to some of the best beaches in Sicily, with crystal-clear waters and pristine white sand. The Spiaggia di Cefalù, or Cefalù Beach, is a popular spot for sunbathing and swimming. At the same time, the quieter beaches of Caldura and Mazzaforno offer a more secluded and peaceful experience.
Foodies will love the town's bustling food market, where you can sample fresh seafood, locally grown fruits and vegetables, artisanal cheeses, and cured meats. For a truly authentic experience, try the town's famous arancini, deep-fried rice balls filled with meat or cheese.
As the sun sets over the town's medieval streets and quaint harbor, Cefalù comes alive with bars and restaurants serving delicious cocktails and traditional Sicilian dishes. Whether you're looking for a romantic getaway, a family vacation, or a cultural adventure, Cefalù is a destination that won't disappoint.
What to see in Cefalù?
Here are some of the top things to see and do in Cefalù:
The Cathedral of Cefalù
This stunning Norman-style cathedral, dating back to the 12th century, is a UNESCO World Heritage Site and one of the town's most iconic landmarks. Admire its intricate architecture, including its impressive Byzantine-style mosaics.
The Beaches
Cefalù's stunning beaches are not to be missed, with crystal clear waters and golden sand. Relax under the sun, swim in the refreshing sea, or try water sports like windsurfing or snorkeling.
Rocca di Cefalù
Hike up to the top of this impressive cliff to get a panoramic view of the town and the sea. The trek is steep, but the views are worth it.
Lavatoio Medievale
Visit this ancient medieval washhouse in the heart of the town to learn about the history of the town's laundry practices.
The Osterio Magno Museum
Discover the history of Cefalù and surrounding areas in this fascinating museum, housed in a former medieval palace.
The Temple of Diana
Take a short hike up to these ancient Greek temple ruins and soak in the breathtaking views of the surrounding landscape.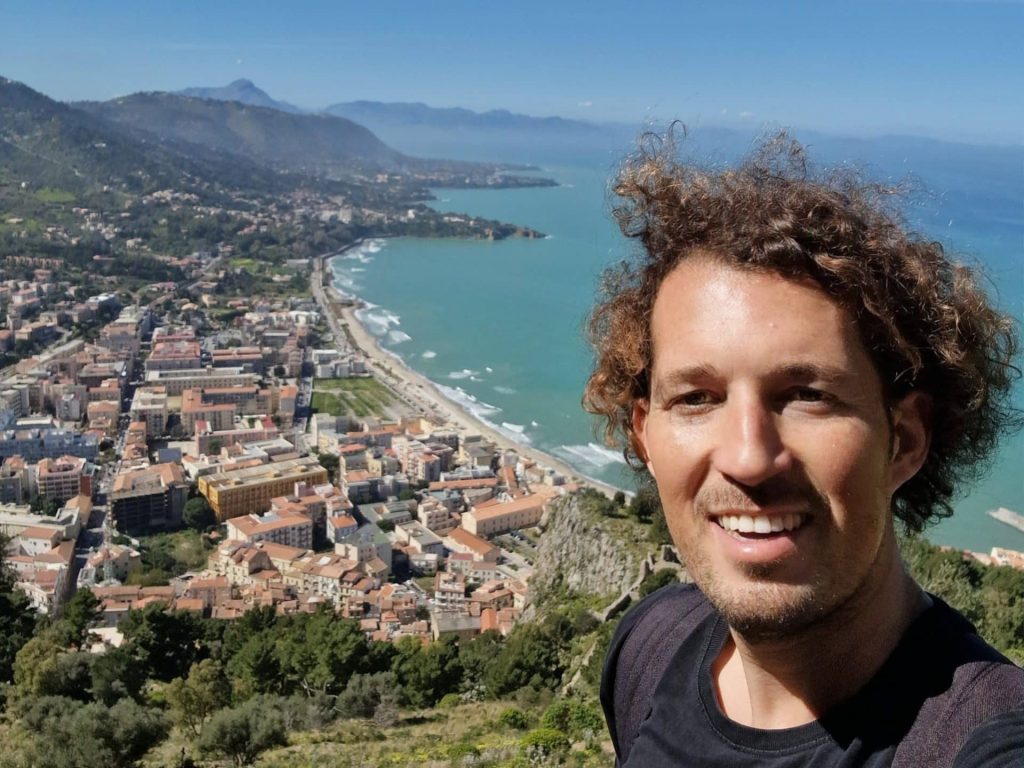 How to reach Cefalù?
If you plan a trip to this charming town, you might wonder how to get there. Here are a few ways to reach Cefalù:
Cefalù by Car
If driving, take the A19 motorway from Palermo to Catania, and exit at Cefalù. The journey takes approximately one hour.
Cefalù by Train
Cefalù is well-connected by train to Palermo and other major cities in Sicily. Trains run frequently, and the journey from Palermo to Cefalù takes an hour.
Cefalù by Bus
Several bus services operate between Palermo and Cefalù. The journey takes around 90 minutes, depending on traffic.
Cefalù by Taxi
Taxis are available from Palermo airport and the city center, and the journey takes around an hour.
Cefalù by Shuttle
Many hotels and travel agencies offer shuttle services from Palermo to Cefalù. The journey takes around an hour and is convenient if you travel in a group.
Is it free to visit Cefalù?
The good news is that visiting Cefalù is generally free of charge. You can stroll around the town's picturesque streets, take in the views of the stunning coastline, and enjoy the warm Mediterranean weather without paying any fees.
However, some attractions in Cefalù require a fee, such as the town's iconic Norman Cathedral, a UNESCO World Heritage Site. There is a small entrance fee if you want to visit the cathedral and its impressive mosaics.
Some of the town's museums, such as the Mandralisca Museum, also require an entrance fee. However, if you're on a budget, there are still plenty of things to see and do in Cefalù that won't cost you a dime.
You can wander through the town's charming streets, visit the local markets, relax on the beach, or simply take in the stunning views from the town's cliff-top vantage points. Cefalù is an excellent destination for budget-conscious travelers who want to experience the beauty and culture of Sicily without breaking the bank.
Can you swim in Cefalù?
The answer is a resounding yes! Cefalù boasts some of the most beautiful beaches in Italy, with stretches of white sand and turquoise waters that will take your breath away. The most famous beach in Cefalù is the Spiaggia di Cefalù, a long stretch of sand perfect for swimming and sunbathing.
But many other beaches in the area are equally beautiful and less crowded, such as the Cala del Pittore, a small cove with crystal-clear waters and a stunning view of the town's medieval fortress.
Some beach areas may be reserved for private establishments, where you may have to pay a small fee for a sun lounger and umbrella. However, there are also many accessible public areas where you can lay your towel and enjoy the sun and sea.
How much time to spend in Cefalù?
The answer depends on what you want to see and do. If you explore the town's historical attractions, such as the Norman Cathedral and the Temple of Diana, you could spend a day or two wandering through the narrow streets and admiring the architecture.
Spending time on the beach is a must for those who want to enjoy Cefalù's natural beauty. The town's sandy shores are perfect for sunbathing, swimming, and snorkeling, and there are plenty of beachfront cafes and restaurants where you can grab a bite to eat.
Suppose you're interested in hiking or exploring the nearby mountains. In that case, you may want to spend a few extra days in Cefalù. The Madonie Regional Park, located just a short drive from the town, offers a stunning landscape of mountains, forests, and wildlife, perfect for outdoor enthusiasts.
In general, we recommend spending at least two to three days in Cefalù to fully experience all this charming town has to offer. However, if you have more time, you can easily extend your stay and explore more of Sicily's beautiful northern coast.
How to get from Cefalù to Taormina?
One of the most popular ways to travel between the two cities is by car. The drive takes approximately two hours and offers stunning views of the Sicilian countryside and coastline. You can rent a car in Cefalù or Taormina or hire a private driver for a more comfortable and stress-free journey.
Another option is to take the train. Cefalù and Taormina are connected to the national rail network. You can take a direct train from Cefalù to Taormina-Giardini station. The journey takes approximately two hours and offers beautiful views of the coastline and countryside.
If you prefer a more scenic route, consider taking a bus. Several daily bus services from Cefalù to Taormina take approximately three hours. Although the journey is longer than driving or taking the train, it offers stunning views of the Sicilian coast and countryside.