Saint Lucia, a wonderful island in the Caribbean and to be honest, I had never heard of it. I spent 3 wonderful weeks backpacking and wrote down my experiences and discoveries on the island. Everything you need to know: what to do, where to stay and where to eat. This is the complete backpacking itinerary for Saint Lucia.
Hewanorra International Airport
It was only a few days after Christmas when I arrived at the International Airport of Vieux Fort (UVF) in the South of Saint-Lucia. Before heading to immigration and passport control, all arriving passenger were sent to a big hall at the end of the airport. My medical documents, such as my vaccination proof and negative PCR test, were being verified by a kind lady before receiving a white bracelet to prove my vaccination status. I was told that I had to wear the bracelet during my entire stay on the island.
After the health check, I was sent back to the normal arrivals area where my passport was stamped by an immigration officer. My backpack was already waiting for me at the luggage belt so I walked straight to the exit where a customs officer was checking every person. After confirming that I'm not bringing in any alcohol or cigarets, I was set free to explore the island.
First things first in a new country, so started looking for an ATM in the airport. The local currency is the Eastern Caribbean dollar (XCD), which is equivalent to 0,33 euro or 0,37 US dollar. Unfortunately the only ATM seemed to have a connection issue. Luckily I'm always taking some cash for emergency situations and I changed a 50 euro note in an expensive exchange office.
To avoid the hassle with expensive taxis or local buses after a tiring flight, I had booked an Airbnb within walking distance from the airport. I checked my Google maps and started walking to the location I had pinned on the map.
Vieux Fort
Hewanorra Gardens
After a nice 20 minute walk I arrived just before sunset at Hewanorra Gardens, which also houses an outdoor bar and restaurant. A friendly woman showed me my room, which was much bigger than expected. The room turned out to be a full apartment with a separate kitchen and bathroom. The rate per night was 138 EC dollar (45 euro/51 US dollar). The night ended with a local Piton beer, while the barman tried to teach me some words in the local Creole language.
After a good night of rest I was fresh and determined to start exploring the beautiful island. The nearest town Vieux Fort is laying at the other side of the airport so I knew I had to walk a while to reach it. After 20 minutes walking along the main road, I arrived at Anse Des Sables, the beach of Vieux Fort.
Reef Beach Cafe
The beach looked beautiful with golden sand, blue water and plenty of palm trees. There are a few bars and restaurants at the beach and I decided to take a seat for a late breakfast at the Reef Beach Cafe.
Although the menu didn't show any breakfast items, the waiter proposed to prepare me an omelet with vegetables, local bread and coffee. I was so hungry that I happily took his offer. The price for this breakfast was 30 EC dollar (10 euro/11 US dollar).
Moule à Chique
After the pleasing breakfast, I continued walking along the coastline and saw the most southern point of Saint Lucia named Moule à Chique. It's a hill on a small peninsula which must have stunning views over the town Vieux Fort, I assumed.
To get to the viewpoint I had to pass through the town and walked along a small asphalted road. Luckily I bought a big bottle of water in a local shop, before starting the climb under the burning sun. After more than an hour and drained in sweat, I arrived at my destination. The area itself was rather disappointing with an old communication tower surrounded by some abandoned buildings.
But I looked around and the views were awesome. In the South I could see the contours of an island, which must be Saint Vincent and the Grenadines. In the North I had a clear view over the town, the airport and the beach I was before. Further I saw the uncountable hills of the island.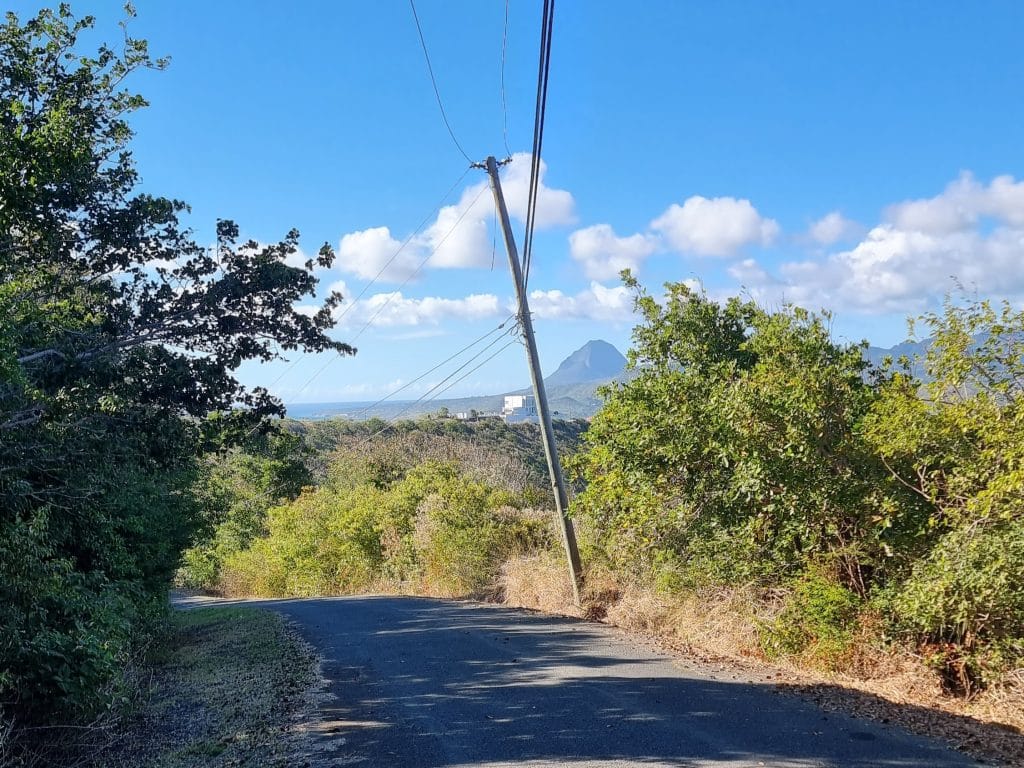 After enjoying the views and taking a well deserve rest, I walked back to the town. This went a lot easier as it's mainly downhill in this direction. In Vieux Fort I was happy to buy some food in the local Massy supermarket and get some EC dollars from the Scotia Bank ATM.
Soufrière
Vieux Fort to Soufrière by bus
The next day I left my apartment in Vieux Fort to go to Soufrière, a small town on the west coast of Saint Lucia. I packed my backpack and walked to the main road where I waved down a bus which took me to the center of Vieux Fort for 1,50 EC dollar (0,5 euro/0,55 US dollar).
In Vieux Fort I asked some locals for the bus to Soufrière, who happily guided me to the pickup spot further up the road. The ride to Soufrière takes 40 minutes and costs 6 EC dollar (2 euro/2,20 US dollar), which I paid double because my backpack takes up a seat as well. There is no schedule and the buses leave when all seats are taken.
Church Street Guesthouse
There are no hotels in the center of Soufrière so I was lucky to find the Church Street Guesthouse on Airbnb. The location is perfect, right next to the main square with the church and, at that time of the year, the Christmas tree. The owners Jessica and her sister were super helpful with local information. The price for the room is 156 EC dollar (51 euro/58 US dollar) per night.
I enjoyed the chill vibes and beautiful surroundings of Soufrière so much that I ended up extending my stay in the guesthouse with two more nights, making it five in total.
Petit Piton and Gros Piton
What I liked most about Soufrière is its location next to two massive volcanic rocks. The Pitons are a national symbol of Saint and have been recognized as Unesco World Heritage since 2004. The Petit Piton (740m) is right next to Soufrière and Gros Piton (798m) is little further down South. The flag of Saint Lucia is blue with a big yellow and smaller black triangle, representing the Pitons.
Soufrière is my favorite place on Saint Lucia because it has the best outdoor options. The surroundings include several hikes, beaches and waterfalls, and even has sulphur hot springs. I would recommend a stay of several days to explore all the options.
Restaurants in Soufrière
There are a few restaurants in Soufrière, such as Belle Vue and the Stone Yard Restaurant, which have mainly local dishes on the menu. Expect to pay up to 30 EC dollar (10 euro/11 US dollar) for a meal, and 9 EC dollar (3 euro/3,3 US dollar) for a beer.
Still Beach is located at Soufrière Beach and has a nice terrace with a view on the Pitons. I highly advise this restaurant for a glass of wine at sunset. The beach itself has a little kiosk selling beers and cocktails at reasonable prices.
Gens Mwen's, located at the pier, is an excellent spot for a simple breakfast.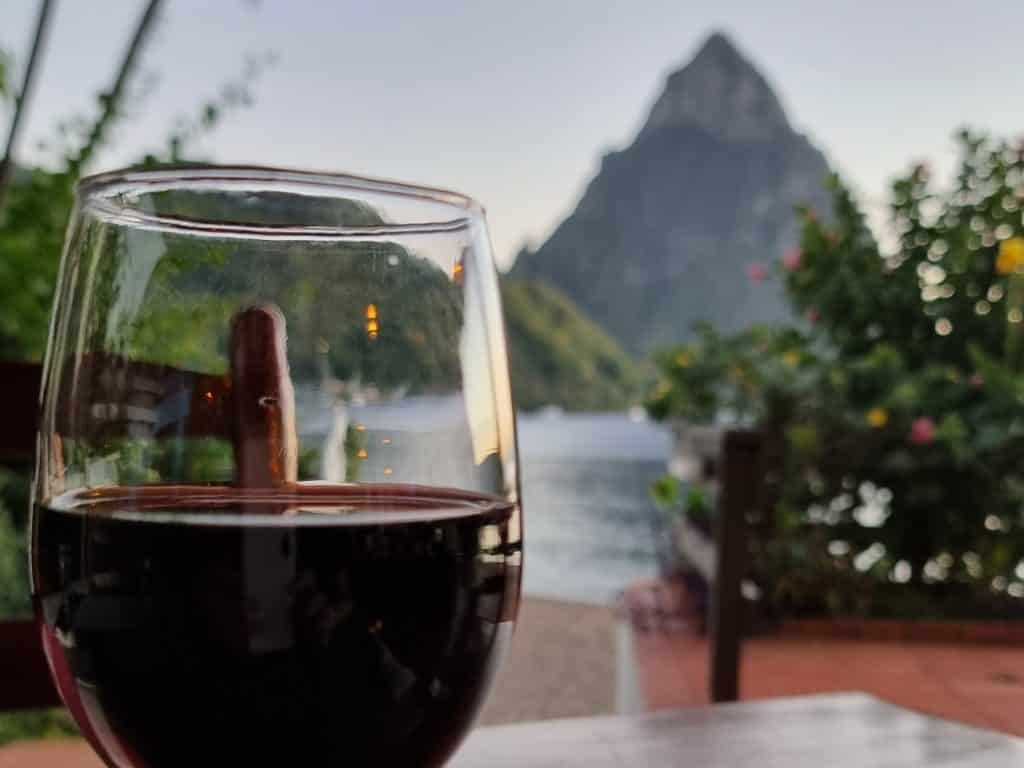 Anse Chastanet Beach
One of the first things wanted to do is a little hike to a beach called Anse Chastanet. I left Soufrière in the North and walked along a steep road that follows the coastline. The road is asphalted and the many trees offer a lot of shadow against the burning sun. Along the road I made few stops to enjoy the stunning views on Soufrière and the Pitons. Such a pity that most people seemed to use a taxi or rental car to reach the beach.
After 30 minutes walking and passing through a security checkpoint, I arrived at what seems to be reception desk of the local resort. Guests who don't stay in the resort are allowed to enter the beach for free but have to register at the reception.
I followed the signs and entered the small but very beautiful beach via a wooden boardwalk. Without hesitation, I put down my towel and took a dive into the blue water. There is a little cabin selling dive tours and renting out snorkeling material. A local man pointed to a platform at the end of the beach and explained it's an excellent spot for snorkeling. I can confirm, it's beautiful and totally free if you bring your own goggles.
The resort also has a little restaurant on the beach which offers afternoon tea and a little sandwich for only 23 EC dollar (7,5 euro/8,4 US dollar). I rejected the offer for a 60 EC dollar (20 euro/22 US dollar) taxi ride back and got rewarded with a beautiful sunset walk.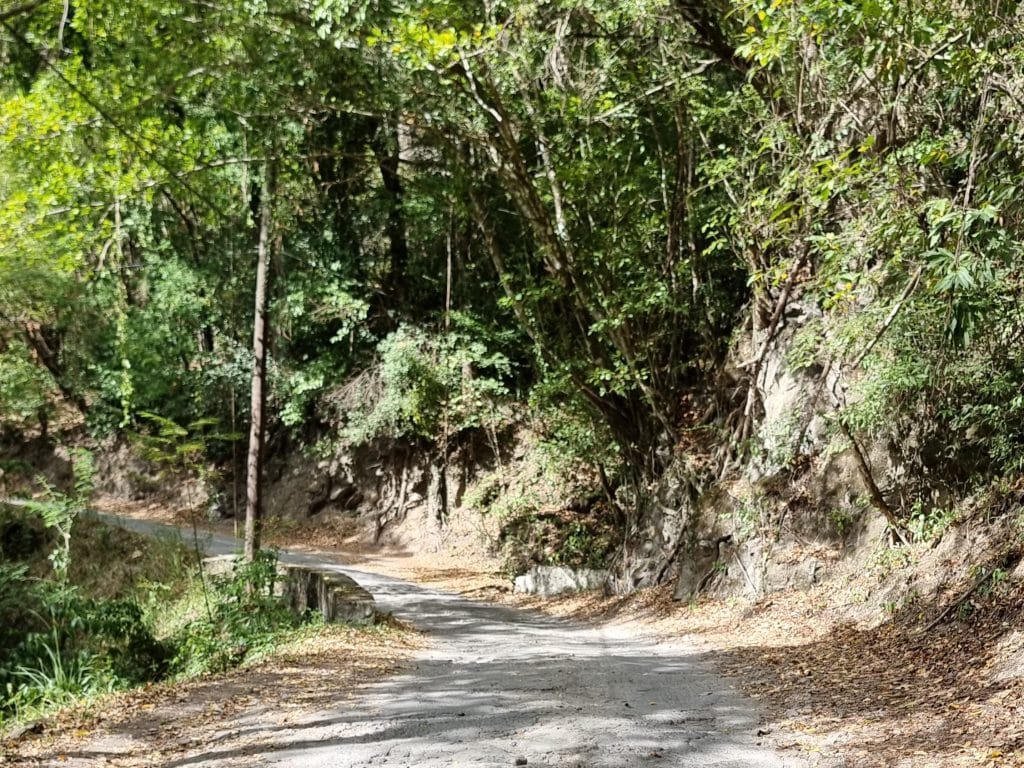 Sulphur Springs and Piton Falls
The next day I find out it's a holiday so there are no buses. I decided to put on my walking shoes and started walking along the big road towards the Sulphur Springs. After about 10 minutes walking uphill, I came across 2 other people climbing up the hill, Ester and Michael. Ester is from Brazil but they both live in Germany, where Michael is from. These were the first backpackers I met on Saint Lucia and I was so happy to talk to some like-minded people.
After a nice chat, our ways parted and I continued the climb towards the springs. I came across a sign and photo opportunity with the UNESCO logo in front of the Pitons. Some locals tourists were so kind to snap a few pictures, before walking further. It was a long walk so I started doing my daily Spanish lesson on Duolingo.
After almost 1 hour walking, I arrived at the entrance of the springs. The entrance fee is 25 EC dollar (8 euro/9,25 US dollar) for the pools. A little further I come to the hot springs, which are flowing into several hot pools. Be careful, these are very hot and I only managed to step in slowly. Those who want can rub themselves with mud before going in the pool. Changing cabins and showers are available next to the pools.
I checked my phone and it was only noon when I left the Sulphur Springs, so I decided to make a little detour and walk back to Soufrière via the Piton Falls. The good news is it's mainly downhill from here, except for the last road before the falls. After 45 minutes I arrived at the entrance of the falls, where I paid the 7,5 EC dollar (2,4 euro/2,8 US dollar) admission fee.
From there a little path with stairs through the jungle took me to the waterfall. It's small and there were pretty many people. I was happy I did came to this place on the go and wouldn't advice making a big detour. Nevertheless I enjoyed a little swim while people lined up for a photo shoot under the waterfall. It was almost getting dark and I walked along a nice little path following the coastline which ends up in Soufrière. Some music in my earphones and the sun going down really made me enjoy the walk back.
Tet Paul Trail and Sugar Beach
Two popular activities I didn't do because of the rain and lack of time are the Tet Paul Trail and Sugar Beach. The Tet Paul Trail is a moderate hiking trail which offer great views on the Pitons. The entrance fee is 10 EC dollar (3,25 euro/3,7 US dollar) which includes a private guide. I really wanted to do this trail!
Sugar Beach is a famous beach located at a luxurious Viceroy resort between the Petit and Gros Piton. Just like Anse Chastanet, the beach is open to everyone, even if you're not staying at the resort.
Marigot Bay
Soufrière to Marigot Bay by bus
After 5 wonderful days in Soufrière, I moved North on the west coast to Marigot Bay. I walked to the bus station and looked for the bus to Castries. It took some time to fill up the bus, but after a 40 minutes the driver gave the sign to take our seat. The ride to Marigot Bay takes 20 minutes and costs 7 EC dollar (2,3euro/2,6 US dollar) per seat. Also this time paid an extra seat for my backpack.
After a twisty ride, the bus dropped me off at the intersection with the road to Marigot Bay. Here I could have waited for for another bus or, according to Google Maps, go for the 15 minute walk. After a steep ascent followed by a steep descent, I arrived at my accommodation for the next 2 nights.
JJ's Paradise Resort
The beautiful bay of Marigot Bay is surrounded by steep wooded hills and affordable accommodation is hard to find. I was happy to find JJ's Paradise Resort on the internet and gave them a call to make a reservation. My negotiating skills even brought the rate down to 134 EC dollar (44 euro/50 US dollar) per night.
The resort consists of a bar and pool area which is surrounded by several bungalows. The bungalow is very comfortable and has it's own wifi network, which is very useful get some work done on a rainy day. The restaurant is bit pricey but good, and can prepare breakfast in the morning.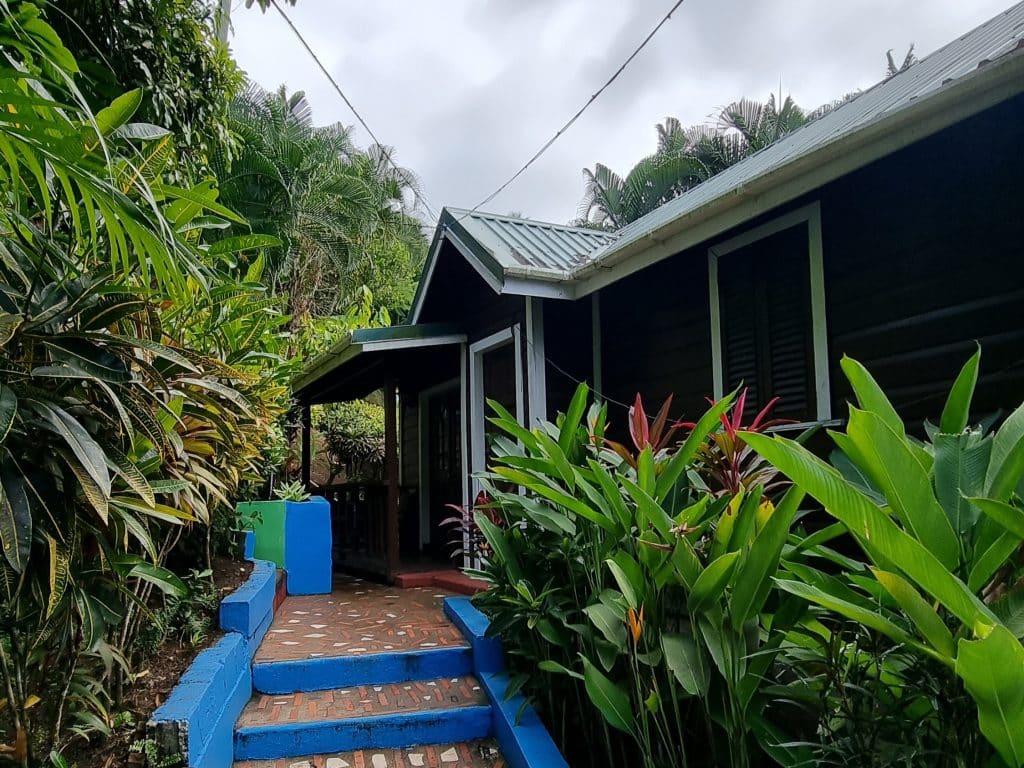 Marigot Bay Beach
The biggest attraction of Marigot Bay is a small beach with palm trees which is totally detached and only reachable by little boat. A little boat picked me up from the dock at JJ's and brought me to the beach for 5 EC dollar (1,6 euro/1,9 US dollar). Be careful with other locals asking crazy prices for the boat ride of less than one minute.
The beach itself is totally worth it with the golden sand and tall palm trees. It's very small so I can image it getting crowded on a busy day, but that was not the case for me. I decided to go for a relaxing afternoon with a fresh coconut of 10 EC dollar (3,2 euro/3,7 US dollar).
Castries
Marigot Bay to Castries by bus
After two nights in Marigot Bay, it was time to move to the island's capital Castries. Heavily packed and with little enthusiasm I dragged myself over the hill to the main road, where I tried flagging down a little bus.
The first bus passing by didn't seem to have an empty seat for me. Right when I started considering hitchhiking, a taxi came out of the little street to Marigot Bay and asked me where I'm going. "Castries" I said, expecting already that his price would be too much anyway. The bus should cost 5 EC dollar (euro/US dollar) Maximus, which I might have to pay twice for my backpack. "10 dollar" he yelled, which surprises me and made me ask "EC dollar right, not US?". He confirmed and told me that he had just dropped off some customers and was happy to take me for a low price on the way back. A short 20 minutes later I arrived at the hotel near Castries.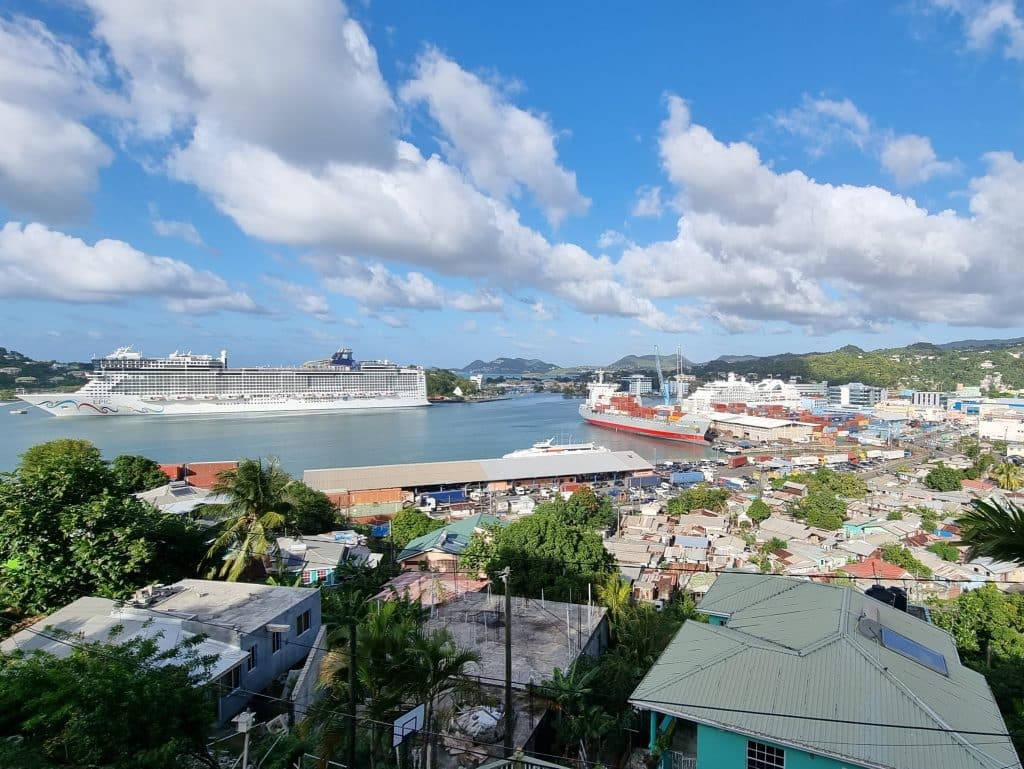 Harbour Vista Inn
The options for affordable accommodation are very limited so I booked the Harbour Vista Inn because it's in walking distance of the city center. The white building on a little hill gives a beautiful view over the city and the port. The room is small but very clean and maybe the best so far in quality.
What to see in Castries
After a little rest I walked down the hill to the center of the city. I would have preferred to go the next day, but I really wanted to buy some water for the night. The center of Castries is a bit disappointing from a touristic point of view. It's definitely bigger and more busy than Vieux Fort and Soufrière, but there is not much to do or see.
The places I had marked on my phone were the Catholic Cathedral and the Derek Walcott Square. Derek Walcott was a Nobel Prize winning poet from Saint Lucia, which has the most Nobel Prize winners per capita (1 per 100.000). William Arthur Lewis won the Nobel Prize for Economics in 1979. Bother winners have a statue in the middle of the square.
The Castries Central Market is a nice market where you can buy souvenirs or try some local fruits. It was hard to find a decent restaurant but I ended up in the Restaurant de Romantique where I had a delicious beef roti. A roti can be found almost everywhere on the island and is a type of wrap filled with potatoes and beef, chicken or vegetables.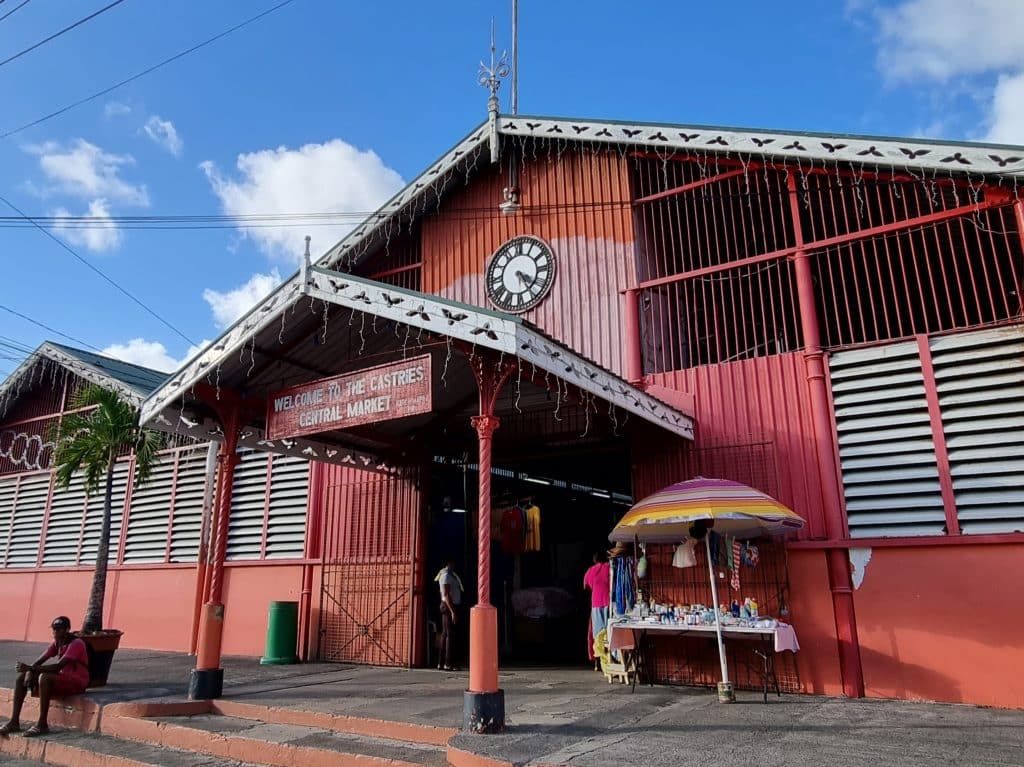 Gros Islet and Rodney Bay
Castries to Gros Islet by bus
The next day I was going to my last destination on Saint Lucia. I walked down the hill to the center of Castries and took a bus to Gros Islet in the North of the island. This time my backpack fitted somewhere in the front so I only paid 2,5 EC dollar (0,82 euro/0,93 US dollar) for the 20-minute ride.
Sunlit Lodge
For my stay in Gros Islet I booked a full apartment on Airbnb for just 125 EC dollar (41 euro/46 US dollar) per night. The apartment has a fully equipped kitchen, living room and spacious bathroom and bedroom with airconditioning. It's well located in a quiet street between the main road and the town center. This accommodation was the best value for money from all places I had stayed on the island.
Pigeon Island and Fort Rodney
One of the main things to visit in Gros Islet is the Pigeon Island National Landmark. This used to be an island but was manually connected to the main island in 1972. At the tip of the island lays Fort Rodney, which was used by the French and the British, and now offers views over the bay. If the weather is nice you can also see the neighboring island Martinique.
My favorite part of the island is Signal Peak though. I absolutely loved the short but intense hike to the top of the hill with even better views than the ones from Fort Rodney. It would be the best sunset spot if they wouldn't close at 5 pm.
The admission to Pigeon Island is 10 EC dollar (3,25 euro/3,7 US dollar).
Rodney Bay
Rodney Bay is a man made lagoon and a main touristic hotspot, right next to the traditional town Gros Islet. The Bay also has the second biggest marina of the Caribbean and Reduit Beach is the most popular beach on the island.
I walked all around the marina to reach Reduit Beach from my apartment in Gros Islet, but you could also ask the locals to bring you by boat for around 10 EC dollar (3,2 euro/3,7 US dollar). They are happy to make a little extra money but be ready to negotiate.
Restaurants in Rodney Bay and Gros Islet
This area of Saint Lucia has by far the most options for shopping and dining. Rodney Bay even has a mall where you can find fast food restaurants like KCF and Domino's Pizza and a coffee shop called Rituals. Spinnakers Beach Bar at Reduit Beach is a nice restaurant with an extensive menu.
In Gros Islet you can find the Golden Taste Restaurant, where you can have good food for an affordable price in a comfortable setting. If you're in for pizza by the slice, you can go to Mattis Pizza Hut. Both restaurants are on the Main Street of Gros Islet, which is known for the famous Friday Street Party. Unfortunately this event is canceled until further notice because of local COVID restrictions.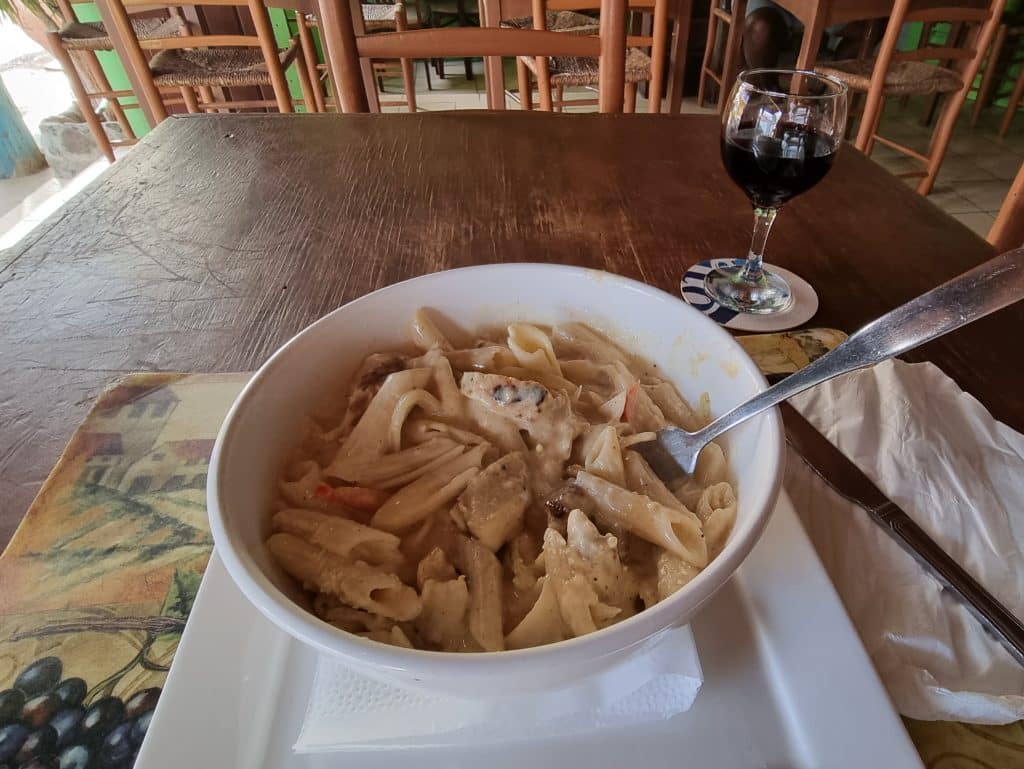 Tropical Breeze Vacation Home
Unfortunately I couldn't extend my stay in the Sunlit Lodge, so I booked a room at the Tropical Breeze Vacation Home. It was a bit more expensive as I paid 175 EC dollar (57 euro/65 US dollar) for one night but the room was clean and comfortable.
On my last day I was invited by a Belgian family to spend the day where they live. Their apartment is situated in the resort The Landings, between Gros Islet and Pigeon Island. The resort looks amazing, the food of the local restaurant is great and I enjoyed chilling at the beautiful beach.
Leaving Saint Lucia and taking a ferry to Dominica
After Saint Lucia I took a ferry to Dominica from the ferry terminal in Castries. L'Express des Îles schedules the route twice a week with stops in Martinique, Dominica and Guadeloupe. Fares start at 49 euro one-way and 79 euro for a return trip for every destination.
As I needed a PCR test to enter Dominica, I went to the Gros Islet Polyclinic where I paid 267 EC dollar (87 euro/99 US dollar). No appointment was needed and the results came in via e-mail the next day.