Maraya, meaning "mirror" in Arabic, is a stunning architectural wonder in Al-Ula, Saudi Arabia. The building is a testament to modern architecture and design while preserving the region's rich history and heritage.
Designed by the renowned Italian architect Gio Forma, Maraya is a rectangular structure made entirely of mirrors, giving it a unique reflective quality that blends with the surrounding landscape. The building is over 40 meters high and covers an area of 800 square meters, making it one of the largest mirrored structures in the world.
Maraya is a multi-purpose venue for various events and activities, including cultural exhibitions, fashion shows, concerts, and conferences. The building has hosted several high-profile events, including the 2021 Winter at Tantora festival, which featured performances by renowned artists such as Andrea Bocelli, Yanni, and Lang Lang.
Apart from its striking appearance and functional versatility, Maraya is also an environmentally sustainable building. It features a unique cooling system that uses solar power to regulate the temperature inside the building, reducing the need for air conditioning and minimizing its carbon footprint.
The construction of Maraya is part of Saudi Arabia's Vision 2030 initiative, which aims to diversify the country's economy and promote tourism by showcasing its rich culture and heritage. Al-Ula, where Maraya is located, is a UNESCO World Heritage Site with a history dating back thousands of years. The region is home to several ancient archaeological sites, including the Nabatean city of Hegra, renowned for its rock-cut tombs and monuments.
Maraya symbolizes Saudi Arabia's commitment to modernization and sustainable development while preserving its cultural heritage. It serves as a source of inspiration for architects and designers worldwide, showcasing the limitless possibilities of modern architecture.
How to reach Maraya?
The closest international airport to Al Ula is the Prince Abdul Majeed bin Abdulaziz Airport in Medina, about 325 km away from Al Ula. You can take a domestic flight from Medina Airport to Al Ula Airport, which is approximately 15 km from Maraya. Several airlines, including Saudi Arabian Airlines, Flynas, and Nesma Airlines, operate domestic flights to Al Ula from Medina.
You can also reach Al Ula by car from major cities in Saudi Arabia, including Riyadh, Jeddah, and Medina. The roads in Saudi Arabia are well-maintained, and driving is a convenient option, especially if you prefer to travel at your own pace. It takes approximately 10 hours from Riyadh to reach Al Ula, while the journey from Jeddah takes about 8 hours.
Suppose you prefer to travel by public transport. In that case, you can take a bus from major cities in Saudi Arabia to Al Ula. Several bus companies, including SAPTCO and Almosafer, operate regular buses to Al Ula from Riyadh, Jeddah, and Medina.
Once you reach Al Ula, you can hire a taxi or rent a car to reach Maraya, located about 25 km from the center of Al Ula. Several car rental companies, including Hertz and Budget, operate in Al Ula.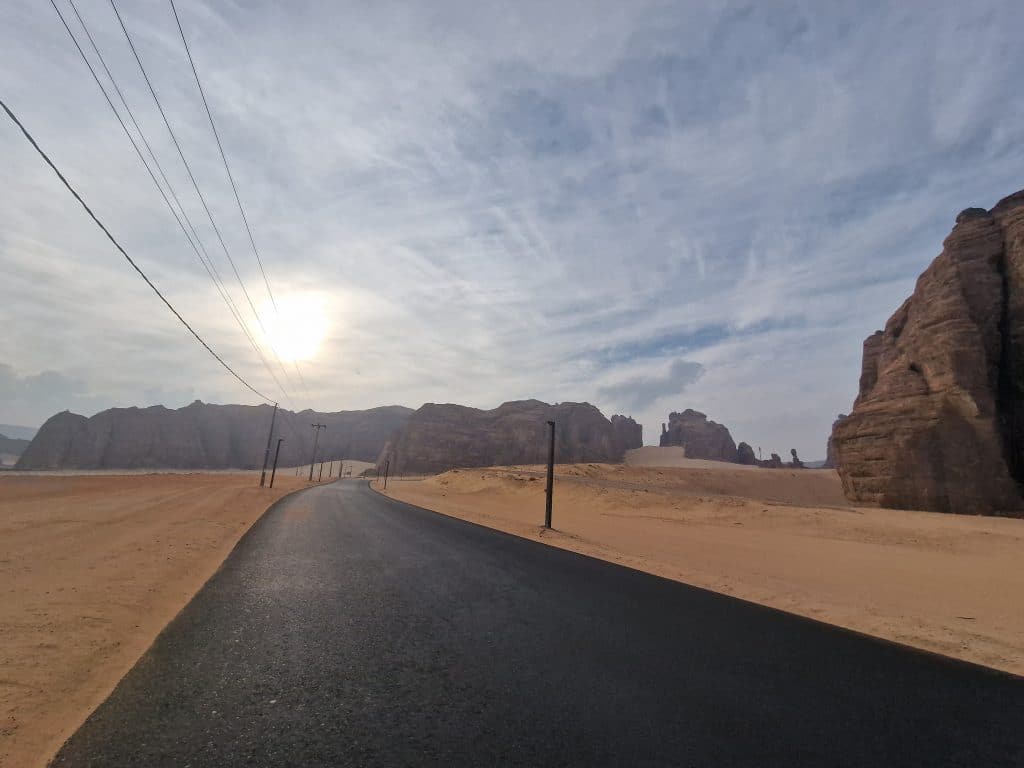 Concert hall
Maraya has been privileged to host numerous concerts featuring prominent local and international artists. From Alicia Keys to John Legend, the stage has witnessed remarkable performances by some of the world's most celebrated musicians.
I am fortunate to have experienced a concert by Usher at Maraya. The venue's intimate setting, with just two hundred spectators, made for an unforgettable and exclusive performance. The organizers had arranged for an excellent pre-concert lounge experience, complete with drinks and appetizers, adding to the overall charm of the event.
The Maraya concert experience is unparalleled, and the venue's reputation for delivering unforgettable live entertainment is well-deserved. The state-of-the-art sound system and lighting make every performance a feast for the senses. Unsurprisingly, Maraya is a sought-after destination for music lovers and artists alike.
What more to do in AlUla: 5 Amazing Things to do in AlUla, Saudi Arabia
Maraya Social restaurant
Maraya Social is a restaurant that has taken the world by storm with its unique blend of modern design and traditional Arabian hospitality.
The restaurant's interior is equally impressive as the outside of Maraya, with its sleek modern design and the way it seamlessly integrates into the exterior. The structure of the building is kept minimalistic to give the interior a lot of natural light and enhance the surrounding's beauty.
Regarding the food, Maraya Social delivers on its promise of offering traditional Saudi Arabian cuisine with a modern twist. The menu features an array of dishes, focusing on locally sourced ingredients and a blend of conventional Arabic spices and flavors. The plates are beautifully presented, with keen attention to detail, making them visually appealing and delicious.
Maraya Social is not just a restaurant but an experience in itself. In addition to the stunning exterior and delicious cuisine, visitors can enjoy live performances by local musicians and artists while dining. The restaurant also hosts cultural events and exhibitions, making it a hub for creativity and community.
What sets Maraya Social apart is its commitment to sustainability. The restaurant uses eco-friendly materials in its construction and design, and the ingredients used in the dishes are sourced locally, reducing the restaurant's carbon footprint.
Reservations for he Maraya restaurant can be made through the website.