Caletta Sant'Elia is a charming seaside village on the east coast of Sicily, Italy. This village is a true hidden gem with its crystal-clear waters, quaint fishing boats, and picturesque harbor.
One of the highlights of a visit to Caletta Sant'Elia is exploring its colorful streets and alleyways. Here, you'll find a mix of traditional Sicilian architecture and colorful street art, providing ample opportunities for photos and Instagram-worthy shots.
For beach lovers, Caletta Sant'Elia boasts a beautiful pebble beach with clear, turquoise waters. It's the perfect spot for sunbathing, swimming, and snorkeling, with plenty of rental options for beach chairs and umbrellas.
Foodies will want to experience the delicious seafood dishes that Caletta Sant'Elia has to offer. Freshly caught fish, calamari, and prawns are just a few of the specialties in the village's restaurants and cafes. Be sure to try the local delicacy, "pasta con le sarde" – a flavorful pasta dish with sardines, pine nuts, and raisins.
How to reach Sant'Elia?
If you're planning a trip to Sant'Elia, you may wonder how to get there. Luckily, there are several ways to reach this idyllic town, depending on your preferences and budget.
Sant'Elia by Car
Renting a car is one of the most popular ways to reach Sant'Elia, especially if you're coming from nearby towns or cities. The town is about 25 km from Palermo, the capital of Sicily, and can be reached by taking the A19 highway towards Catania and then the SS113 road towards Bagheria.
Sant'Elia by Train
If you prefer to travel by train, you can take a regional train from Palermo to Bagheria and then take a local bus or taxi to Sant'Elia. The train journey takes about 30 minutes and is a great way to enjoy the stunning coastal views of Sicily.
Sant'Elia by Bus
Another option is to take a bus from Palermo's central station to Sant'Elia. Several buses run daily, and the journey takes approximately 45 minutes.
Sant'Elia by Taxi
If you want to avoid the hassle of public transportation, you can also take a taxi from Palermo to Sant'Elia. Although this option can be more expensive, it offers the convenience of door-to-door service and allows you to enjoy the stunning scenery of the coast.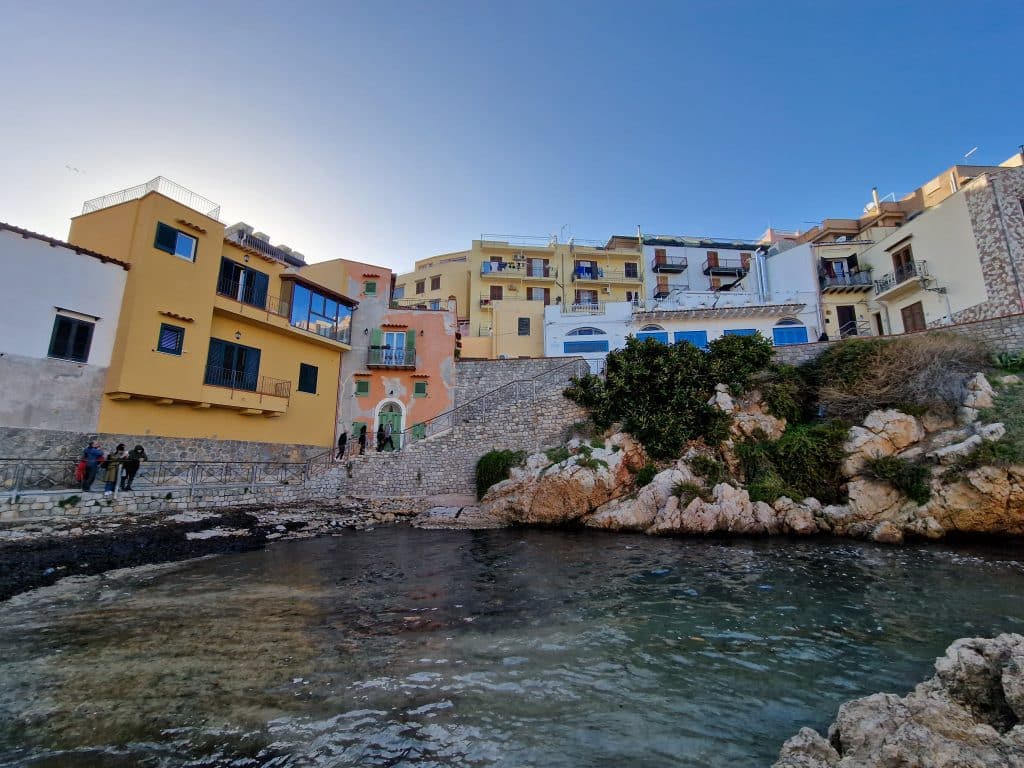 Is it free to visit Sant'Elia?
Many people wonder whether visiting Sant'Elia is free, and the answer is yes. No entrance fees or tickets are required to visit the village or its surrounding areas. However, visitors should note that fees may be associated with certain activities or attractions in the area, such as boat tours, water sports, or entrances to museums or archaeological sites.
That being said, visitors can easily enjoy the beauty of Sant'Elia without spending a dime. Simply strolling around the village, admiring the colorful houses and fishing boats, and enjoying the views of the Tyrrhenian Sea can be a wonderful experience.
Can you swim at Sant'Elia?
Sant'Elia is a small beach that offers a relaxing and peaceful atmosphere. The beach is surrounded by rocky cliffs and clear blue waters, making it the perfect spot to soak up the sun and cool off in the sea.
The water at Sant'Elia is calm and inviting, with a gentle breeze blowing in from the sea. It's ideal for swimming and snorkeling, and there are plenty of opportunities to explore the underwater world.
There are several restaurants and cafes nearby where you can grab a bite to eat or enjoy a refreshing drink. You can also rent umbrellas and beach chairs, so you can spend the day lounging in comfort.
How much time to spend at Sant'Elia?
If you're short on time, you can easily visit Sant'Elia as a day trip from Palermo. Spend a few hours exploring the harbor and taking in the scenic views, then head back to the city in the evening. This is an excellent option to taste the village's charm without committing to an overnight stay.
However, if you have more time, we recommend staying at least one night in Sant'Elia. This will allow you to fully immerse yourself in the village's relaxed atmosphere and enjoy everything it offers.
Stroll along the waterfront promenade, stop by one of the local cafes for a traditional Sicilian breakfast, and sample fresh seafood at one of the village's renowned restaurants. You can also explore the nearby beaches, hike the surrounding hills, or relax and soak up the Mediterranean sun.