On this page I'm keeping an overview of the countries I have traveled to so far. The list includes every country I've set foot in, from only a couple of hours in North Korea to several months in Colombia. As my quest to visit every country in the world is pretty recent, most of the countries have been visited in the past 10 years.
I've started with the low-hanging fruit in Europe where I could easily visit 20-30 countries and slowly expanded towards Asia and the Middle East. Recently I have also been traveling to America and Africa but it has become more difficult as those countries are often harder to reach. And don't get me started on COVID-restrictions which make country-hopping a mess and sometimes even impossible.
There are so many more countries to discover, some very special ones, which makes me very excited. I'll update this page regularly with new destinations I've visited. Write in the comments which country I should visit next!
Every country in the world
One of my big dreams is to visit every country on planet Earth. And I've come to believe that it's a dream that I can accomplish. I don't take it as a main goal, because I don't want it to be my main focus while traveling. But I do think it's a nice motivation to visit countries that are not so popular.
| | |
| --- | --- |
| Countries visited | UN countries |
| 82/233 | 78/195 |
Map overview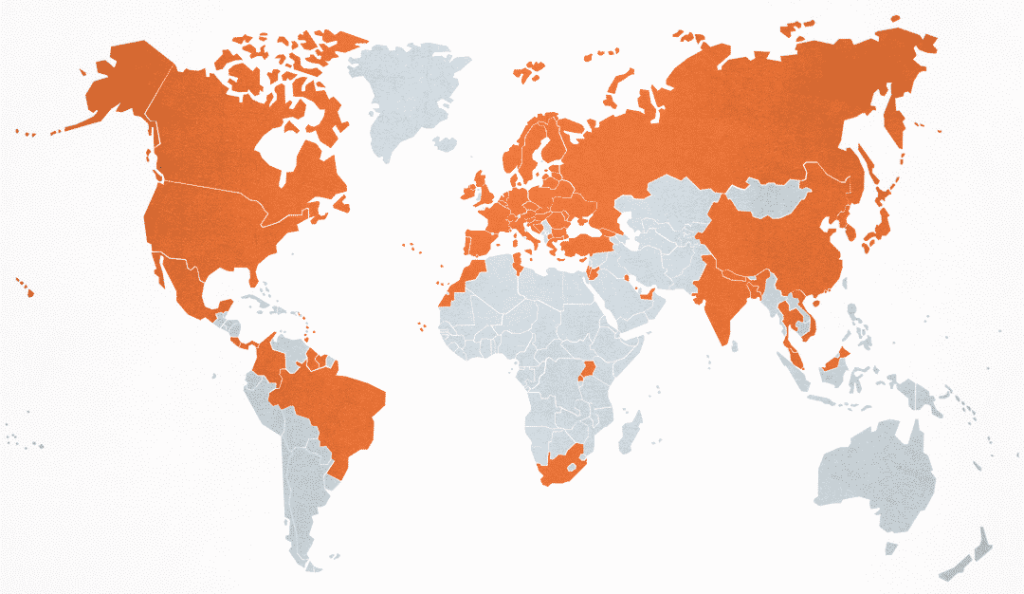 List of countries
Europe
Austria, Belarus, Belgium, Bosnia and Herzegovina, Bulgaria, Croatia, Czech Republic, Cyprus, Denmark, Estonia, Finland, France, Germany, Gibraltar*, Greece, Hungary, Ireland, Italy, Latvia, Lithuania, Luxembourg, Malta, Moldova, Monaco, Netherlands, North Macedonia, Norway, Poland, Portugal, Romania, Russia, Slovakia, Slovenia, Spain, Sweden, Switzerland, Ukraine, United Kingdom, Vatican
Asia
Bahrain, Bangladesh, China, Georgia, Hong Kong*, India, Israel, Japan, Jordan, Kuwait, Macao*, Malaysia, Nepal, North Korea, Singapore, South Korea, Palestine, Thailand, Turkey, United Arab Emirates, Vietnam
Africa
Cabo Verde, Morocco, Rwanda, South Africa, Tunisia, Uganda
North & South America
Barbados, Brazil, Canada, Colombia, Costa Rica, Dominica, Grenada, Guyana, Mexico, Panama, Saint Kitts & Nevis, Saint Lucia, Sint Maarten*, Suriname, Trinidad & Tobago, United States
Disputed States
Northern Cyprus*, Transnistria*
* Not official countries according to the UN